Go Lead Free… Go Galva-Guard™!
The Original Lead-Free Galvanizing Repair Solder
Galva-Guard™ solder is the original, lead-free composition designed specifically to provide high quality galvanizing repairs to new or old galvanized steel surfaces. Galva-Guard™ is simple, effective and easy to apply for your galvanizing repair needs.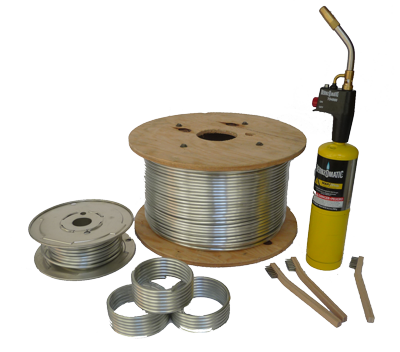 History
Galvanizing repair solders have a long history in use, but they have always been high in lead.  A typical solder contained between 40% and 75% lead, and all current galvanizing repair solders that are not "lead free" still contain these high lead levels.  As the environmental movement worked to reduce lead use and exposure, there developed a need for a lead-free product.
Research

Galva-Guard™ is the result of three years of R&D funded by the International Lead Zinc Research Organization, among others, to formulate the best possible lead-free galvanizing repair solder.
Galva-Guard™ is designed to provide excellent cathodic and barrier protection. In addition, it offers high abrasion resistance and hardness, strong adhesion and is totally lead-free.
Galva-Guard™ exceeds performance standards as set by the standard, ASTM A-780 for repair of galvanized coatings.
Performance
Galva-Guard™ galvanizing repair solder has a broad and relatively low application temperature  of 400 – 570° Fahrenheit (200 – 300° Celsius).  When heated, it melts into a moldable slurry that can easily be shaped, spread, smoothed and built up to a substantial thickness, even on vertical surfaces!
All you need is a torch and a small wire brush. Because of the low melting temperature, there is no risk of damage to the surrounding galvanized coating.
Quality
It takes only minutes to apply, but the Galva-Guard™ galvanizing repair will out perform any zinc rich paint or lead based touch-up solder. As with galvanizing, it metallurgically bonds to the steel and the metallic repair blends in naturally.
Galva-Guard™ is supplied as a heavy 1/4″ dia. wire in either coils or spools. It is used by galvanizers, fabricators, and installers to repair galvanized coatings that have bare spots or have been damaged by cutting or welding. It can even be used to fill holes, has a low melting point and is easy to apply in horizontal, vertical, or even overhead applications. Galva-Guard™ yields a bright silver color, giving you a better color match than common lead containing solders.
We manufacture and stock Galva-Guard™ in the following sizes:
as well as
Product is always in stock and ready to ship anywhere from across town to across the globe from our manufacturing facility at San Diego Galvanzing, Inc.
Contact us today to learn more!